"Women in Tech"
Women in tech
Women in tech has been a huge topic lately, yet still it seems vague. Is it only feminist mumbo-jumbo, or is it a real problem? What kind of behaviors can women expect when they enter area that used to be "for guys only"? We'll try to answer that questions
×
Stop recompiling. Dramatic boost of your iOS programming productivity
Imagine you change your code and see the results immediately, no need to wait for your machine to recompile whole project and put in on device , instead of working 8h you'd work 4h and achieve same results, sounds good?
What could you achieve in those extra 4h you just got ? Either bring even more polish to your great apps, or have more time for your family and life.

Let's talk about using advanced techniques to maximise your development speed, Playgrounds for Objective-C and how you can use runtime / code injection to get most out of your time.
×
"What if...? - An utopian vision to repurpose old phones."
For more than 5 years I've been experimenting creatively with mobile technologies. Because of this I developed Protocoder: a framework for creative exploration and prototyping for Android devices. Although Protocoder was created for a different purpose, I started to use it in a way that I could re-use my old phones in unexpected ways.
During the talk I will go through a story of trash, technology, planned obsolescence and utopian visions on how to repurpose the hundred millions devices we thrown away yearly.
×
"Lollipop Security Enhancements"
This talk will introduce the new security features added in Android 5.0 and will briefly describe their platform integration and internal implementation.

Features to be covered:
Full disk encryption
Verified boot and block-based OTAs
SELinux policy changes
Smart Lock (trust agents)
Multi-user changes and managed profiles
Device management API changes
Cryptographic provider and SSL changes
×
"Mobile trends for 2015"
I will try to figure out does it even make sense to try to predict trends on an annual basis in a landscape where there are so huge users shifts across various devices.
×
"Made for Everyone"
Since 2009, iOS has provided a great user experience, not only for people with perfect eyesight, hearing, and motor skills, but for everyone. There is usually very little coding involved in making sure that our own apps provide the same great experience.
Standard controls comes with a lot of behavior for free, and can be studied, customized, and used to tailor the experience for our apps and controls. Providing a good experience means thinking about the functionality of our apps and asking simple questions like: what does this button do?, what is the content on this screen?, etc.
Questions like these don't relate to just making the app accessible. It's relevant to all users of your app, equally, and should be asked both early and often in the development process.
×
Mixing Lean UX and Agile Development: Evolved processes for designing and deploying apps on devices and mobile.
Using two specific case studies, as well as learnings from additional projects, I walk attendees through the weekly cadence that we use at Carbon Five during product development. This methodology and its activities establish a sustainable culture of integrated and invested teams that are able to communicate across disciplines in a meaningful way.The result of creating this type of culture via cadence allows our teams to put new features in front of users each week for validation and hence move the product closer to its market fit faster.
×
"Designing for a Connected Life"
Since our earliest beginnings, humans have been on a quest to master the environment. As the Internet of things becomes reality, the latest chapter of this very long journey unfolds before us. While amazing opportunity awaits, so does the potential for all of it to go terribly wrong.
In this talk I'll explore the importance of aligning your designs for the Internet of things with human behavior in order to avoid failure. I'll also talk about what we've learned at emberlight as we work to expand the user experience of lighting in the shadow of a design that has stood the test of time - the wall switch.
×
Hacking your home – reverse engineering wireless transmissions
The internet of things is built around sensors, without sensors we don't know what goes on and we can't tell our software to make rational choices based on the analytics of this data but building our own sensors are not always practical or cost efficient when there are numerous of the shelf solution that could do the same thing if we could only access their data! This talk demonstrates how to reverse engineer standard sensor wireless protocols from weather stations, movement sensors and more to use for your own designs!
×
"What does it mean for code to be  maintainable?"
Minimizing the cost of change in your codebase is important, but what does that really mean? Quick prototypes are different from long-term infrastructure; small teams operate differently than large ones. Even worse, projects change over time, and today's weekend hackathon often becomes tomorrow's legacy code.
This talk will explore how we can manage our codebases and engineering processes so that our code remains maintainable, even as the definition of "maintainable" shifts.
×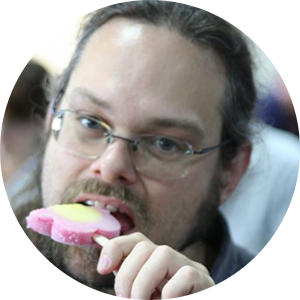 "Scaling Android Apps for Emerging Markets"
Android's staggering growth over the last few years has come both on flagship phones and budget devices. Those budget devices are now in direct price competition with feature phones and bringing hundreds of millions of people onto the platform each year. In order to develop great products for these people, getting smart about performance, connectivity, and device characteristics has become crucial for Facebook. I'll discuss the qualitative and quantitative approaches we've taken to better understand the Android device market, and present the way we've scaled this in the organization. I'll also cover the ways we've made the Facebook for Android application smarter about its device and network, and the optimizations we're exploring for the future.
×
"Dear developers, design details matter"
Android finally has established design guidelines and widely used UI design patterns. Android users understand functionality of components like the navigation drawer, action bar, sharing and many more. However, the guidelines are just that, guidelines, not rules.
All Android apps should not look alike but neither should they all reinvent all the controls. In this presentation I will take a deep dive into details of the common design patterns and how they can be customised without compromising usability.
I want to help developers and designers alike to understand how to correctly use Android UI design patterns.
×
"Design As if No One is Watching"
The world is full of pretty products that aren't very functional. While customers may be initially attracted to those shiny objects, in the long run, if a product is an empty shell, it will not last. An useless product that looks great is a failure. And the failure belongs as much to the designer as anyone else.

If you design hoping people will notice how awesome your design is, you will be disappointed. Or you will build something that isn't useful. The best design decisions are the ones people don't notice. The subtle choices that contribute to making the product easier to use, better at it's purpose. If you do your job well, all but the most discerning customers won't be able to articulate why they like your product more. They just will.

In this talk, we'll take a look at examples of products that are designed well, not because of how they look, but how they work. The small decisions made along the way that contribute to success. We'll also talk about avoiding the common pitfalls of design for design's sake. Over-abundant animations, the obsession with "clean" interfaces that lack function, making our products so opinionated that only we like them—all the things we designers tend to fawn over that don't matter much to most people. Finally, we'll talk about balancing the need to serve our customers' best interests, vs. our own needs to survive as a company. You can't build products for people, after all, if you go out of business.

Successful design solves problems. Well designed products meet needs. Focus your energy there, and you will build something truly great.
×
"Games and Visualisers in Mobile JS"
I've written a few games for mobile devices in JS and I've done my time in the enterprise visualizing tools space too.
Let's talk about practical things like performance, frameworks and team building with these concepts with a real focus on the lessons learned doing this the hard way when the only tools at your disposal are a text editor and a team of silverlight developers.
×
"Weaving the Best Mobile Apps With Fabric"
Twitter was born on mobile, and we know what it takes to design, release, and grow a great mobile app. In this talk, we will share some of the lessons we have learned and highlight how Fabric, Twitter's recently announced modular mobile platform, makes it easy for developers to build great apps. Fabric combines the services of Crashlytics, MoPub, Twitter and others to address some of the most common and pervasive challenges that all app developers face: stability, distribution, revenue and identity.
×
"Designing Calm Technology"
We cannot interact with our everyday life in the same way we interact with a desktop computer. Technology shouldn't require all of our attention, just some of it, and only when necessary. How can our devices take advantage of location, proximity and haptics to help improve our lives instead of get in the way? This presentation covers the history of calm technology, wearable computing, and how designers can make apps "ambient" while respecting privacy and security. We'll look at ambient notifications, compressing information into other senses, and designing for the least amount of cognitive overhead.
×
WhatRTC? Everything you need to know about modern web communications.
Traditionally browsers and mobile applications communicate via servers, but what if they could speak to each other? WebRTC is a small set of APIs that make peer to peer communication possible between browsers and mobile applications. Video, audio and data can flow from browser to browser, from app to app, opening up a new set of possibilities for modern communications.
We'll take a look at what WebRTC gives you and, importantly, what it leaves out. We'll take a look at implementing a simple chat application and speculate over more complicated use cases and examples.
×
"Securing iOS applications"
Topics covered:
iOS security mechanisms
Understanding security from attacker perspective
One more time about jailbreak and reverse engineering (tools detection and anti-detection)
Best practices with real code examples
Advanced security (iOS kernel, syscalls)
×
"Going from a good Android design to an awesome one"
Making a well designed Android application is not enough anymore, it has to be awesome. This talk will show you how to change a good design to a awesome design to it will benefit your app.
×
"Mortar & Flow"
Dagger, Flow and Mortar are open source libraries that form the backbone of Square's flagship Register app. Use them to spend less time fighting the life cycle and more time coding (and unit testing).
×
"Security panel"
Mobile Security Demystified
Security experts discuss common pitfalls, lessons learned, and tricks & tips for improving the security of your apps.
×